Throughout this past decade as professional photographers, we have delivered over 500,000 images, photographed over 350 weddings and over 1000 photo sessions. During that time we have seen some really cool things, taken some stunning photos and told some amazing stories. The following are what we think are our top 50 photos from the past decade and our stories behind them.
Long Post Warning… Images 50-11 are in no particular order, images 10-1 are in order of favourite. 
#50
One Crazy Idea Leads to Another
We fell in love with skies and we are always trying to push the limits of our skills, understanding and application of photography. We had captured a beautiful image of a couple with a starry background which was crazy #1, but that wasn't enough. I'd seen images with the stars looking incredible, showing off the milky way and the colours you can see only on a light-less night, away from the light pollution of cities and I wanted that for one of our couples.
It turns out finding the milky way in the sky in the northern hemisphere on a night when the moon was below the horizon (otherwise it's too bright) is rather difficult and requires a significant amount of planning. You have to be far enough from a city to avoid light pollution, have to be there at the right time of night, and have to be able to photograph in the correct direction to get the milky way in the shot. Oh… and did I mention it has to be CLOSE enough to that same city in order to make travel feasible… and one more thing… clouds will ruin everything!!!!
One of our awesome couples, Brook & Melissa, jumped at the chance to be included in such an adventure and we started planning. The location we chose was the Valley of Fire State Park outside Las Vegas, NV… and after coordination of schedules of actually getting to Vegas the time of day we needed to shoot in the park was 3:00 am!!!!!!!
It was an hour and a half drive from where we were staying to where we photographing… so at 1:00 am we picked up our couple from the Aria and headed north. Arriving we were all tired, Sherry and our couple were sleeping so I drove around with them until I found where to shoot… the reluctantly woke them up. It was close to freezing overnight so it was an effort to get this done. Oh yeah… and it was pitch black so setting up the camera was also a challenge. I got the camera set up, Brook & Melissa raced out of the car to my spot and stood still until they could stand still no longer due to the cold and Sherry laid in the dirt behind them with the flash obeying my every barked command.
As you can see in the photo there are a few clouds over the couple… and honestly, 30 seconds after this photo was taken, the sky was filled with a light cloud that covered our starry sky. We got the shot just in the nick of time.
Photo Info Nikon D4, Nikkor 20mm f/1.8, 8.0 sec F4 @ ISO 800. Speedlight triggered by Phottix Transmitter/Receiver placed behind the couple at 1/16th power flash sync speed 1/250th
#49
My Happy Place
Just down the road from San Jose Del Cabo, Mexico lies a beautiful piece of dirt with parts of it covered in green bermuda grass with a few holes in it called the Palmilla Golf Club. San Jose Del Cabo is an adopted home for the Buck family as we've had a family condo here for 25 years. It's beautiful most weather for most of the year and has some magnificent golf courses. Golf being very special to me as prior to being a photographer I was a professional golfer. This golf course has been part of our family for over 20 years as my parents have had a golfing membership here and it has been the place we keep coming back to for golf.
Several years ago the membership wasn't being used very much and our parents decided to get rid of the membership. The last trip while they were members my father asked me to create some art pieces of the course for his office so he could remember it the way he loves. This was my favourite of those creations, taken of the 3rd hole of the Ocean nine at the Palmilla Golf Club. An 8 foot wide printed version of this photo hangs in the clubhouse now and is one of my favourite personal photos we've taken.
As an additional note, 10 months later dad decided he had made a mistake and picked up the membership again which they still use to this day.
Photo Info Nikon D4 Nikkor 70-200mm f/2.8, 6 image panoramic stitch, finished in Adobe Photoshop.
#48
Oui Oui!!
Europe has our hearts. Ever since going overseas for the first time together on our honeymoon we have been in love with the land across the Atlantic. France is a double bonus favourite as David is fluent in french so it feels more like a home country than others that language is more of an issue. Well the city of Paris is very special and we decided for our 10th anniversary to spend some time there. Of course as our life, business and work all blend into one of COURSE we would do some work while we were there celebrating our anniversary!!! (because we're crazy… about life and business and work… and our kids :D)
Well the day was pretty crappy to be honest, the rain was falling, it was not in the least bit warm even though it was June, the day previous had been hot and beautiful and spent at Roland Garros for the French Open… but on this day it was a bit miserable. However, we trekked all over the city with our willing subjects through the gardens at the Louvre, to the famous landmarks, and put in a LOT of steps in the hopes of getting something great. We were certainly rewarded as two of the photos in this list came from this shoot. This one, shot along the Pont Alexandre III while the rain lightened slightly with bikers and walkers running by we were able to find a hint of serenity in the bustling metropolis, long enough to create this beautiful shot.
Photo Info Nikon D750 Nikkor 105mm f/1.4, 1/2500 F1.4 @ ISO 500
#47
Suspended Moment
Sometimes good things don't come easy. As you can imagine as for Aleah, the woman in this picture who is afraid of heights. There come occasions where we are asked to do things that are out of our comfort zone because we want the result at the other end. We are pushed to be better, stronger, faster, braver for the sake of a goal… in this case, the photo that now spreads across their master bedroom above their bed. This was in the middle of an already long day with travel, traffic and lots of heights to get up to the Sea to Sky Gondola in Squamish, B.C. Our engagement adventure took us to multiple wonderful locations around the coastal Vancouver area and when I asked them to walk to the middle of the suspension bridge that hangs hundreds of feet above the earth Aleah closed her eyes, nodded her head and along with Kyle they trekked to the middle.
Photographically we wanted to bring the background in a bit and make it feel more immersive so we chose a longer lens and created a 16 photo panoramic stitch to get the compression and depth of field from the longer lens, but the wide panoramic photo of the beauty in front of us. I love how the lines of the mountains, the changing colours of the trees and even the bridge intersect to bring our eye into the photo.
Nikon D4 Nikkor 105mm f/1.4, 1/3200 F1.4 @ ISO 50. 16 image panoramic stitch
#46
Shoot What You See
As artists, we are often tempted by coming to a real-life location with a photo already in mind of what we want to shoot. Unfortunately, there are many factors that can spoil those plans and if we spend too long trying to create what isn't there, we will miss what is. This photo is a perfect example of what can happen when we choose to forget what we went there for. We had this idea of capturing beautiful shadows crossing over the dunes as the sun went down at Death Valley National Park, but as it got later in the day there was no sun to be had. I have to admit I was a little disappointed but again our couple Jon & Erin came all the way to Vegas with us, traveled hours into Death Valley and of course we were going to do our best with them anyway. After being a bit frustrated with the weather we chose to overlook our disappointment and look for what we did have available. As the light was dimming and it was close to dark we came over one of the sandy hills and saw this. So Jon & Erin walked carefully around the pristine sand to the top of the hill, Sherry went with them to throw the red fabric into the air to simulate wind then she would duck, roll and dive behind the hill so not to be seen, and this was the result.
Nikon D750 Nikkor 70-200mm f/2.8 + TC-20iii 2x Teleconverter, 1/500th F10 @ ISO 800. 
#45
Carribean Vogue
This might just be one of the strangest wedding photos we've ever made and the hardest part was probably for the 4 of us, Lindsay, Krishna, Sherry and me to keep a straight face while we were doing it.
We were in the process of taking some night photos for their wedding and we were trying to create something that would fit well as the last page of their wedding album and the first few we took were good, but didn't feel right for their wedding. Then Sherry said "well, I've got this crazy idea… but it's really crazy" and our couple said, "WE WANT THAT!!"… So off to the pool we went as Sherry had this vision of using two of their centerpieces as big Carribean head-dresses and she had seen the steam coming off the pool and thought it would make for a cool feel to the photo… so I laid down on the diving board, held the camera an inch above the water, put a flash behind the couple to light up the headpieces, and Sherry held another flash off-screen to the right with a MagMod grid to control the spill of the light and voila… the image that became the finale of their wedding album and one of our favourites.
Nikon D750 Nikkor 24-70mm f/2.8, 1/100th @38mm f/2.8, ISO: 2000 – Flash exposure comp -2.0 rim flash set to M 1/8th, front flash ttl.

#44
Baby, It's Cold Outside
We come into every situation expecting the best but prepared for the worst. So when Greg & Kate told us about the mountain top chapel at Sun Peaks and how they wanted to take all of their photos at the peak and feature the chapel, winter, snow, and beauty of winter in the mountains we were excited! After a gorgeous wedding, marriage vows and family photos we made our way to the top of the mountain only to find out it was REALLY COLD!!!!! Like, freeze your little fingers off your hands cold…
Kate expressed a desire to be finished outside as it was too cold dressed in a wedding gown and we all agreed. As we couldn't spend any time doing what we had planned and knowing they had dreams of having mountaintop photos I said to them "Please trust us, give us one shot and we'll get it right… We will make it worth it." So we had one shot to get it right and make it awesome.
We placed Greg & Kate, but her veil kept falling flat, and there was no way Sherry could hold it as she needed to hold the flash that was behind them so she buried the veil under some snow so it would stay extended then she dove into the snow with the flash held high, I asked them to look lovingly into each other's eyes and snap…
They say you don't hire a professional for when everything is going right… you hire them for when everything is going wrong. This photo shares that perfectly. I love the glow from the flash, the cool winter snow and how the couple is highlighted with the faded chapel behind. I love this photo, and the effort by us and the trust and freezing fingers our couple had that made it possible.
Nikon D850 Nikkor 24-70mm f/2.8, 1/500th @24mm f/8, ISO: 500 – M Flash power at ¼ with grid attached to flash held by Sherry
#43
Wisterian Tunnel
There were so many beautiful photographs from this particular wedding, but nearing the end of the photo session at the VanDusen Botanical Gardens we came to their walkway of Wisteria and we'd taken a few photos with the flowers in the background then as we walked through Sherry saw something I didn't and said "we need to do something with this floral frame… So into the darkness, they went. It was very dark under these trees but we carry with us our trusty Stella Pro 5000 light so Sherry busted it out and hid off-screen right highlighting just the couple with the extra light and we gave them some loving instructions, snapped a few and then moved on.
Sometimes photo session moves so quickly from one spot to the next we forget what we photograph along the way. We make sure to get everything on our internal checklist that we see as a complete wedding but the specifics sometimes get lost in our minds. It wasn't until I was back at my computer working on the finished product of the images that I came across this photo and was brought to tears. In post-processing, I brightened them up a little bit, darkened the frame a bit but it was pretty close to perfect from the start and it brought me to tears. This image to me encapsulates a fairy tale wedding. It's surreal enough to be taken in a dream world yet real enough it it's emotion to tell exactly the story that happened. Every time I look at it my eyes linger on the photo longer than most others. It is captivating.
Nikon D750 Nikkor 70-200mm f/2.8, 1/400th @140mm f/2.8, ISO: 320 – Stella Pro 5000 light off-camera from the right with focus snoot.
#42
Flowing Love
I know, the title is a bit corny… and that's ok cause I'm a bit corny :D.
This photo brings with it several challenges, first is the couple need to get out to a rock in the middle of the river dressed in their engagement shoot attire which is no easy feat as the only way to get out is to scale down a steep slope onto some narrow rocks and jump over a portion of the river that is about 2-3 feet wide so kudos to them to get there in the first place. So once they are there we place them just where we want them… and afterward comes the really tough part…
You see this particular river is deep enough where you don't really want to stand in it unless you have hip waders so as they sit there on their rock they get to see the show of David hopping over one rock, to the next, climbing along a fallen tree, hop to another rock only to himself and a really expensive camera inches over the surface of the water in order to get the foreground river in the bottom of the frame… then hold the camera and himself still enough to drag the shutter to get the flowing water effect in the photo. Let's just say it takes all of the photographic efforts we have to capture an image like this and it is SO worth it. I love how this one turned out and is definitely one of my favourites.
Nikon D4 Nikkor 24-70mm f/2.8, 1/20th @24mm f/18, ISO: 640
#41
Make The Best Of It
You've heard it said, "If life gives you lemons, make lemonade" well this was definitely the "ade" of the lemon. We all hope for the best weather on the day of but sometimes it just isn't meant to be. After a day of high winds and even tornados dropping in the area (we even witnessed 3 small sailboats capsize on the water as a microburst went through a group of boats) but the mood was wonderful in the evening as the rain was POURING down on the backup plan tent for the outdoor wedding and as our time with our clients was drawing to a close and the dancing was in full swing we asked them to be crazy with us and walk out into the rain for us to get this shot…
Now a few things to know, if you put a flash behind the couple and trigger it for a photo it will light each individual raindrop between the camera and the flash. So if the flash is further away and you use a longer zoom lens you will get more raindrops between the camera and the flash. Second, water and electronics don't go well together. Trying to trigger a radio-controlled flash properly when the rain is pouring down just doesn't seem to work as well as when it's nice and dry. Also, cameras don't focus well in the darks so sometimes you have to set your focus before, not touch anything and hope you get the shot in focus. It's the best that can be done at times.
So I went out and placed the flash where I wanted it, placed a little marker in the grass for where the couple was going to be and got ready. Then our couple ran out and got into place and even though I had tested it 3 times prior to them being in the shot… It didn't work!!!! So lightning speed troubleshooting began… I ran to the flash, fiddled with a few things and ran back to the camera (by this time we are all soaked) then Sherry ran to the flash and laid in the grass (getting wetter if that's possible) to hold it up as the grass was interfering with the radio signal, and we pulled the trigger. I glanced at the camera and saw that what we had was close to what I envisioned, couldn't check to see if it was in focus and had to trust that what we had was good as we were certainly not going out in the rain again… and we ran back under the tent. We said our goodbyes and sat in the front seat of our car to look through the photos and see if we got this, and it was perfect.
Nikon D4 Nikkor 24-70mm f/2.8, 1/250th @70mm f/4.5, ISO: 3200 – M Flash Power at ¼
#40
After All That Effort, Sometimes You Just Get Lucky
Many years ago there was a photographer who was doing work in Photoshop that we didn't understand. We couldn't replicate the incredible beauty he was able to pull out of each photo and I wanted to know how he did it… well it turned out he was holding a 3-hour local photoshop class… in San Francisco… in 2 weeks…
So I jumped on a plane to San Francisco where I stayed for a grand total of 30 hours to learn some of the most profound, career-changing photoshop techniques I have learned. After arriving into SFO at 11:00 pm I found my hotel and went to sleep. When you wake up in San Fran with morning and an early afternoon available to do whatever you want but without a car what do you do??? Well, I rent a bike and ride over 30 miles around SF to see the highlights I hadn't seen before. Travel over the Golden Gate Bridge, go see the interesting things… and I really wanted to take my own iconic picture of the Golden Gate Bridge which is an engineering marvel and after having a whole day of crystal blue skies, as I rode up to the lookout point to the bridge the clouds rolled in… really heavily! So heavily I couldn't see 20 feet in front of me.
The upside is all the tourists go away at a time like this so I have the lookout all to myself and seeing as how I had nothing better to do I just waited… and waited… and waited but the clouds rolled on so that I couldn't even see the iconic red/orange paint of the bridge that was right in front of my face. That is until just for an incredibly brief moment a portion of the clouds broke and I had the chance to capture this photo.
Nikon D700 Nikkor 24-70mm f/2.8, 1/250th @34mm f/9, ISO: 200
#39
Early Morning Cursings
The trouble with landscape photos is you have no control whatsoever over the elements that make a photo amazing. You can't control the direction, intensity or softness of the light, the colours though they can be enhanced, what you see is what you get and for the best light, you typically have to be on location ready to shoot at the most uncomfortable times. Of course, if you get there and the clouds don't cooperate you might as well pack up and go home or find something else to shoot.
During one of our trips to Banff National Park (one of my favourite places on earth), I really wanted to get an early morning photo of Moraine Lake (in my opinion the most beautiful place in Canada) and though Sherry is always on board with photo opportunities she isn't exactly what I would call a lover of mornings. She will get up early when she needs to but would prefer to sleep a bit longer. So as we were looking at the forecast specifically for a clear sky day the report said tomorrow was going to be clear(ish)… so she made me a deal. If we got up for the 3:45 am alarm and the sky was clear, we would go (it was 2 hours from where we were to get on-site to shoot) but if it was the least bit cloudy she would go back to bed and go to sleep…
The alarm blared at 3:45 and sherry lumbered out of bed to the window, looked outside and said "awww s#@%"
Nikon D300s Nikkor 12mm, 1/320th  f/10, ISO: 200

#38
The Last Shot
Save your best for last, that's what I always say :)…
After a whole day of shooting, we were driving back from Whistler to Vancouver as we approached Brittania Beach when the sun was setting… so we parked, ran across the tracks and stood uncomfortably on the side of the highway ditch beside the railroad tracks to capture this stunning silhouette. It was the last frame of the day :).
Nikon D750 Nikkor 24mm, 1/4000th  f/5.6, ISO: 400

#37
Winter Wonderland
I don't have too much to say about this photo, other than I love composing with light. It was near dark at the Sun Peaks Resort and we had a few more minutes to photograph so we got far and wide, and triggered a flash behind the couple to illuminate them in a dark place. I love the contrast and even though the subject is small in the frame, they stand out amongst the tall trees and snow-covered forest.
Nikon D750 Nikkor 80mm, 1/400th  f/2.8, ISO: 2000
#36
Hello
I love this photo. As a father, as a photographer, as a story-teller, this unscripted moment with our 9-month-old son Myles and a complete stranger in a medieval village in Tuscany encapsulates our feelings about traveling in Italy and the love of people.
When our children were 3 years old and 9 months we spent a month traveling throughout Italy and from the moment we landed our fears of traveling with young children were laid to rest when we discovered it was easier and more welcoming living in Italy with kids than it is in Canada. The people are so welcoming, and they make it easy to take your kids with you everywhere. I'm sure it helps that we have some pretty cute kids, but wherever we went our kids were "taken" to be shown around restaurants, shops, museums… they love kids and welcome families.
One afternoon while visiting the village of San Gimignano (which we highly recommend) we found a road off the beaten path and were taking some pictures of the two of our kids together and as Myles wasn't able to walk and really not crawling much yet we left him in the spot while we reviewed some photos with our other son Jack and an elderly lady while walking up the road stopped to say hi to Myles. I love the joy on her face, I love the look in Myles's eye, I love that he has the ties of the hat in his mouth, and every time I see this photo it brings joy to my heart. Almost enough to have another child… almost :D.
Nikon D750 Nikkor 35mm, unknown settings
#35
Why You Wait For The Right Light
Without light, there is no photo. This has been known forever in that photography is the capturing of light. During this wedding we went on a 3-day adventure in Italy with this couple through 7 different cities, a marriage ceremony overlooking the village of San Gimignano at a Tuscan estate and after much discussion back and forth about locations all over the country they decided they would love a couplescape in the fishing village of Manarola in the Cinque Terre on the northern shores of the Mediterranean sea. So we said if we were going to go we had to go when the light would be best. They wanted a photo that was truly landscape where they were part of it, but only a small part, so they hiked out onto the break wall (no easy feat) and Sherry went with them armed with a flash which could be triggered from across the bay where I was located. As the sun went down the city lit up so beautifully, and after waiting for about 25 minutes to make sure we got the best light, we headed home. If you're going to create something awesome, wait for the right light.
This is a 32 image panoramic stitch where we used a long lens shot vertically and captured the image in 32 separate frames then used Photoshop to stitch them together. The final printed version able to hang as wide as you'd like as it is about 10 times the size of a standard image.
Nikon D750 Nikkor 70-200mm, unknown settings – 32 image panoramic stitch
#34
Fall Beauty
Fall colours in Muskoka are fantastic. Nathan & Linda had a late fall wedding at a place called Brooklands Farm which features among many things a beautiful lake and dock on the property and this photo captures it perfectly. Shot as a 24 image shallow depth of field panorama, I love how they stand out from the background illuminated by the sun.
Nikon D750 Nikkor 85mm, f/1.4 multi-image stitch
#33
Meet us in Banff
During our consultation with this amazing couple, they said they wanted to do a couplescape adventure and said "meet us in Banff" and we'll capture some amazing mountain photos to which we said, "How 'bout Peyto Lake??" One of the things we love most is coming with ideas that will give the opportunity for adventure and photos, and when you think July in the Rockies it should be warm, right?? Well, in this case, it was sunny, warm, and it snowed on the same day. Moments after this shot was taken it started snowing. Our original plan was to hike our way down to the lake itself which is about an hour hike down (and if you're willing we are still looking for a couple to take to the bottom as it too is beautiful) but when we got there it had been a wet summer and the path was a bit rougher than we were prepared for so we explored the lookout and surrounding area at Peyto. One of the fun things is getting to a location then putting on the heels :D… What you can't tell with this photo is they are standing on a significant downslope, so we always recommend bringing running shoes then change into the high heels once at the spot. Even standing in the high heels on this spot required support, but they were troopers and on this day we created many amazing shots, including two in this top 50 list.
Nikon D4 Nikkor 24mm 1/500 f/4 ISO 50
#32
Cold Feet… Legs and Neck!!
Several years ago we had 8 photo sessions in a month at this location, by request of the clients who had seen a recent post we'd published on the Grotto at Cyprus Lake and when we get to a location over and over we always try to see the same place differently. We want to give each client a unique experience and we were scratching our heads on how we could make something different and unique that we hadn't seen shot at this very small location with very few spots to put people. In order to get to this spot requires several hours of driving, then another hour hiking, then we have to scale a cliff to get down into the cave. Once there we have this thing called water to deal with and as was previously noted, water and electronics don't go well together… but they don't go so well with wedding dresses either. Our couple trekked with us and put in significant effort to get into the cave. One time when we were here a week or so earlier we noticed the light shining on the rock in the middle during about a 20 minute period late in the day so we planned this shoot to coordinate at the same time. So we were all in the same place, but what we really needed was for them to get to the center rock which meant they had to wade through 2 feet of water which they weren't super excited about…
However, in order for me to get where I needed to go I strung my cameras up above my head and waded through the edge of the walls until my knees… my waist, my stomach then all the way to my neck were under very very cold water. So I made my way back to a ledge very cold and wet, and once they saw the effort I was putting in they said: "NO PROBLEM… we can get there".
I love how the light shines on the couple in this dark place.
Nikon D750 – 24mm 1/3200 f/4 ISO 2000
#31
Get Er Done
I love this group photo. I love the composition, the pulling together of a whole bunch of people into a pleasing photo that isn't the standard (stand in a line) type group shot. However, what makes it more exciting is that we had about 3 minutes to get it done. It was time to go for the entrance of the reception and time was a bit tight, and it's in times like these that we relish the opportunity to be photographers. Pressure comes with the job and we seem to find another gear when needed. Sherry was moving people left and right on one half of the photo and I was doing the same on the other and because the light in that spot wasn't the best we pulled out a speedlight and grabbed three separate shots with Sherry moving across with the light then composited it afterward into the single image group shot you see. When you've only got one shot to make it right… put all you have into it… get er done.
Nikon D750 24mm 1/40 F/4 ISO 6400 – Flash positioned in three separate spots to illuminate the right, centre and left of the photo. Composited after the shot.
#30
A Whole Lot Better Than A Selfie! Also titled Being Married A Long Time ROCKS
This is the fantastic tourist/fishing village of Positano in Italy. It's hard to take a bad picture of this incredible place, but while taking some lovely landscape photos Sherry was halfway across the beach which from where I was standing I could hardly see her, she was waving her arms in the air and pointed towards a couple of people then gave me a thumbs up/thumbs down option… Having been married to Sherry for a long time I knew exactly what she said… and I gave her the thumbs up.
From Sherry's perspective, she was on the beach minding the young children we birthed while I was taking some photos of our friends and she had seen this couple on the beach trying to take a photo of each other. One would stand out by the water and get a picture then they would switch, and they were getting frustrated as they couldn't get one together and they weren't turning out as they hoped. Sherry saw this and what she asked me from halfway across town with a few arm motions was "Hey there is a couple over there… If I offer for them to get some pictures are you willing to direct them and take the photos?" To which I gave a thumbs up to. They say 90% of all communication is non-verbal… in this case, it was 100% 🙂
So our couple came over, speaking just a bit of English we were able to create some incredible keepsakes including this photo.
Nikon D750 24mm 1/640 f/4 ISO 640
#29
OOOOoooooo That LIGHT!!!!!
When you've spent a decade looking for light, slivers of illumination that could make a photo interesting, when you see something that you know will make a stunning shot before you even set it up there is an excitement that takes over, a gitty feeling of (Oh MY THIS IS AWESOME) kind of feeling.
Such was the case one afternoon during wedding photos at Knox College at the University of Toronto where we had photographed many times before, but on this day the way the light was coming in the window made it a no brainer. We placed the bride in her white dress against the dark shadowed part of the wall and placed our groom in his black suit against the brighter wall to contrast him against the light, then gave them a reason to be elegant in their posing and captured this incredible photo. The lines leading in from the neo-gothic architecture brings your eyes down to the couple and her incredibly beautiful wedding dress adds such class to this one.
Nikon D750 – 42mm 1/320 f/2.8 ISO 2500
#28
Golden Dunes
This is exactly what we were looking for… It's what we came for, and it was coming together so perfectly… the only hiccup was that we had one take and about 45 seconds to get this one right. When you're waiting for the right light and you get it, it can go away SO quickly. As the sun is setting the colour of the light changes because of the amount of atmosphere it has to go through and gives this incredible orange glow not present during the day, so we took Steph and Brent into the Dunes, got them into place and then had them go for a walk together. On their end, it was probably quite romantic and enjoyable, but for me, it was a frantic effort to get all we could with the time we had. There are probably 10 different compositions from this little slice of time and it goes so quickly. All in all, we are super pleased with this one.
#27
The Last Supper?
As we walked into this grand hall at the law department of U of T up at the front was this beautiful wall that made the whole room look like Hogwarts along with these gorgeous antique tables (I mean look at those legs!). Even though this shot is exactly what we saw when we entered the room, the tables weren't exactly in this position and they are quite heavy :)… So 5 of us quickly rearranged pretty much the whole room so we could make this gigantic head table on which to place this wonderful grouping of people. It is a bit inspirational from the painting The Last Supper. I believe we did put most of the tables back before leaving, but it was quite a gargantuan effort on the wedding day to move the furniture to make this shot :).
Nikon D4 32mm 1/125 f/2.8 ISO 800
#26
Life Change
The story behind this photo is too long even for this gargantuan post, but suffice it to say this beautiful photo happened just after what became a life-changing event for this couple. They didn't know then what they do now but this photo to me beautifully shows the steady rock of the love they have for each other in times surrounded by the uncertain turbulence of life.
The photo itself was captured after wading into the water, by all of us… which seems to be a common theme throughout this post, the shutter was slowed to bring motion to the water in the still image and truthfully you could see these two were ready to take on the challenges of life together after the climbing effort, sitting on a wet rock together and enjoying life, no matter what was thrown at them.
#25
The Moment Part #1
The moment of emotion on a wedding day happens when the bride reaches the ceremony until she is presented to the groom… this is and has always been by far my favourite moment at a wedding. It is also one of the most difficult to photograph as well as we would like because so much happens in such a short period of time. Starting when the bride and her father, or in this case mother and grandmother walk her down the aisle there is always a moment shared between them just as they are about to walk the aisle and I want to be there to capture that. Then there is the moment where the groom sees his bride and emotion wells up inside of them but depending on the distance from the top of the aisle to the groom that can be quite a distance so having multiple cameras with multiple lenses is paramount and the switching between the two happen very quickly. Then there are the people the bride catches with her eyes as she makes her way up the aisle, then there are the greetings and giving away of the bride at the front. All of this happens within 10-25 seconds and each part we want captured beautifully. So for us when possible Sherry is at the front capturing angles from there while I'm behind capturing the angles from the back and up the aisle. We have a system to capture all the important moments. In all of the ceremonies we have been part of, these next two photos are the bride's emotion and the groom's reaction is my favourite I've witnessed.
Settings Don't Matter, moments trump camera settings
#24.5
The Moment Part #2
The groom's reaction from the same wedding looking down the aisle at what you see in the previous photo…
Beautiful.
(Settings don't matter… moments trump)
#24
This Is Why You Picked This Venue
When you decide to get married at the top of a mountain overlooking Vancouver, I believe the photos should show just that. Sherry had this photo in mind when we started the day rising into the clouds up the Grouse Mountain Gondola, but nature has a way of humbling even our best ideas. So we worked throughout the day in cloud and fog, trying to get the very best mountain looks while being fogged for the majority of the day. Then just before the sun went to bed for the evening, like a curtain being pulled from over the window of our view, the clouds melted away leaving us with one of the most stunning sunsets. We ran into the cocktail hour with our usual gentle walk so as to not disrupt anyone but with haste!! It's tough walking quickly while appearing like you are walking slowly :D… We got our bride and groom Caleb & Sharleen and insisted they come to the other room where we had a shot set up ready to go. I stood in one spot with the camera, and Sherry did the rest.
Nikon D750, 24mm, 1/1600, f/4, ISO 250

#23
No, It's Not Photoshopped
Ever since my kids have been able to confidently hold their heads I've tossed them up in the air. When younger the height would be lower, but as they would get stronger and more confident I would throw them higher and higher. They would usually say "AGAIN" and I'll throw them until my shoulders can't take any more.
There is a sweet spot in the raising of children where they are light enough to throw very high in the air but old enough to be able to take the heights without being scared, and this was the pinnacle of that moment with the last of our two children. I've thrown my kids up in the air thousands of times, in all sorts of different places and we've taken many many photos of it, it's been something that I've done with mine that has been very special, and this is the best. The best photo, the best height, the best location, the best body expression by Jack (the one standing on the ground). Every time I see this photo it warms my heart, makes me cry, makes me smile, makes me love my family more and more. Yes this photo was planned, but it to me is the "moment" of family, captured.
Now for some pro tips…
– When you throw them up in the air make sure not to allow their legs to go higher than their head, this causes an imbalance, makes them start to flip over forward on the descent and makes them much harder to catch properly
– If you place your thumbs on their chest and throw them up with a volleyball like "set" motion, you can get about 20% more height as you push up with your thumbs as you release them
– It's best when the child is wearing a tight-fitting shirt or jacket as too much fabric makes them harder to catch.
For all of you who are wondering, no I never dropped either of them :D… though there was that time with Jack (1st child) where I ALMOST dropped him and had an Odell Beckham Jr. style saving catch :D.
#22
See, Not Photoshopped
Another of my favourites, clearly illustrating the proper hand release position with thumbs heading to the sky.
#21
Elegant, Elegant, Elegant
I would say this is the most elegant photo we've ever taken. The staircase, the lighting provided by the snooted flash off-camera right, the painting on the wall mirroring the look of her dress flowing down the stairs, I love this shot.
Nikon D750, 24mm 1/50 f/7.1 ISO 320
#20
Outside The Box… Or Is It Inside?
One of Sherry's great strengths in photography is her ability to look outside of the box to use and combine things available on a wedding day to create great story pieces, details, and moments that help tell the story of the wedding day. In this case, she thought inside the box and placed each of the details in the armoire with the other on display antiques the venue had as decoration giving an instant heirloom quality to the feel of the details and the album. It fit so perfectly with the wedding and this photo reminds me of how special it is to get to spend my life with a woman such as Sherry.
Nikon D700, 35mm, 1/60 f/3.5 ISO 2000
#19
When Nothing Else Will Do, Create It
We were trying most of the evening to come up with a good idea for a night shot at this wedding to close out the wedding album and things were looking rather bland, so we decided to spice it up a bit :). This photo was created by using two iPhones with pictures on the screen held in a scissor-like manner in front of the camera lens with one hand, and the other hand on the camera to take the picture. There is a flash placed behind the couple to light them up. It is rather difficult to make sure the couple is in just the right place in the lens because it's hard to see in the dark before the flash goes off, but after a couple of tries we got it just right.
#18
I Love You Beary Much!
They say when you're hiking in the national parks you should carry a bell with you and bear spray… I guess this is why!
Now there really was a bear right there behind us but what you can't see is that we are standing next to a park ranger, on a road, and we may have used a longer lens to make the bear appear a bit closer. It was fascinating watching that beautiful animal for a while before we continued with our photo session.
Nikon D4, 155mm, 1/250, f/13, ISO 500

#17
Boogie Nights
Boy was this a fun one. Some weddings have lots of dancers, some have few… others rock the night away. This wedding was a rock the night away kind and they handed out fluorescent bracelets for all to wear so we wanted to incorporate that into the photos. The barn in the background was also important to them and we didn't yet have a photo that we loved incorporating the barn, so we set this one up :).
There is one flash with a diffuser and grid with a red gel pointed at the center of the barn close up to it, then we have a flash with a blue gel, pattern mask and widespread pointed at the whole barn, then we put the couple dancing in the middle with their glow in the dark bracelets on… we even had music playing for them to dance :).  It came together beautifully!
#16
One Stellar Proposal
Ok, so it wasn't their ACTUAL proposal as it wouldn't really be a surprise to propose during such a specific photo request, but as our skills capturing starry nights improved, so did our desire to do something cool and interesting. So Karen & Rui made their way into a field with us, and I'm pretty sure there were some bugs we had to deal with, but after some wonderful effort we were able to capture this frame.
Nikon D4, 20mm, 3sec, f/1.8, ISO 2000 – Flash sync 1/250th to freeze the couple on the dark background while the image was exposed for the 3 seconds.
#15
The Grand Tetons
So much happened on this day… Even when you're in the mountains life still goes on. After we had gotten back from Europe on a trip where our camera bag had been stolen and with it many thousands of dollars worth of gear, this very moment was the time the adjuster wanted to call and talk about compensation… in a place where there was no cell reception… or should I say, very little cell reception. So we got to this parking lot where we could get a few bars and Sherry took the couple out while I talked to the adjuster, got finished and Sherry had this shot set up ready to capture. It sure is wonderful being married to such a wonderful artist.
Nikon D4, 92mm, 1/4000, f/4, ISO 250
#14
No Words
As a father, I have no words to describe these two boys and the joy of watching them develop a beautiful brotherly love.
#13
Shot on Iphone X … Portrait Mode 😀
#12
Twins(ish)
Our two children, photographed in the same spot, with the same outfit, at the same age, but a little over 2 years apart. Good luck figuring out which one is which :D.
#11
Unexpected
When you ask a local for directions and he says "take this route, it's a short drive and it's beautiful" only to find yourself driving down the same gravel road for 3.5 hours in a time before Google Maps you start to get a little frustrated. Near the end of our journey into the abyss, we came around a corner and Sherry said "STOP THE CAR!" Which of course I figured meant we were about to go over a cliff or hit a Moose… but no, she saw something to photograph, this incredible rock, shaded in misty clouds.
Nikon D5000, 82mm 1/800, f/4, ISO 200

The Top 10
#10
10th Anniversary
We are crazy people. We travel halfway around the world to spend our 10th anniversary together in the French Riviera and the day of our actual anniversary we were staying in a very expensive and rather lovely hotel in Nice, France and we decided that we wanted a photograph to commemorate the milestone but as photographers, a normal photo just won't do… a handheld selfie on the promenade won't fit the bill.
A few towns over from Nice is the city of Menton, right on the France Italy border and it's gorgeous! So we plan to do a sunrise photoshoot there on the day of our anniversary. Did you know the sun rises early in the morning in June? It would be fine if we were staying just a few minutes down the road, but no… we were 3 train stops away which doesn't sound so bad if I said our hotel was near the train station… but no, our hotel was a 45-minute walk from the station… so as we start doing the math the night before we're thinking to ourselves, are we really this crazy?? The answer was yes, we really are that crazy.
So our alarm went off at 4:30 in the morning the day of our 10th anniversary and we get dressed and walk to the train station, get on the train and make our way to Menton then trek another 20 minutes from the station in Menton to the rocks where we wanted to take this photo… we set up the tripod with camera and I do the 10-second blitz photo… You know, the one where you press the shutter on the 10-second timer then run from there to your spot before the shutter fires :)… I'm sure it took 5-10 times, I don't remember anymore, but the photo that came out is my favourite photo of the two of us we've ever taken (Sherry disagrees as there is another in a few spots).
We love photos, and we're crazy about them.
Nikon D750, 30mm, 1/250, f/10, ISO 100
#9
See Another Perspective
Shot at a venue we've photographed many many times, on this occasion while taking a photo we've done before I looked down into the wet ground only to see one of the most interesting reflections I have seen. This is shot inverted down into the ground to capture the straight-up reflection of our couple. It's intriguing to me because of its uniqueness.
#8
Our Kind Of Selfie
If you've followed us at all on social media you'll know Sherry and I don't really like selfies. In fact, we don't often post photos of ourselves so when the time comes that we do want a selfie, we've got to make it a bit different. We wanted to do something with the Eiffel tower but of course, we didn't want to go up to Trocadero Square and get the same shot everyone else in Paris has done so when we were walking through one of the most beautiful cities on earth at sunset we set up a makeshift tripod (balance the camera precariously on the backpack that's been carried around all day) and do the ol' set the 10-second timer and run into position again! We love this photo because there is no question where we are and what it means to us, yet it's seen in a different way than what's expected.
Nikon D750, 24mm, 1/250, f/16, ISO 3200
#7
How The HECK Did We Get This All To Ourselves?!?!?!?!?!?!?!?!?!?!?!?!?
I'm not sure if you've ever been to any tourist location ever… but it is always different in one major way from the pictures… Whatever the attraction, it will be FILLED with tourists!
On one of our trips to Rome, we had an idea to create a photo with the most iconic building on earth and though we had several ideas our initial thought was to go at sunrise as we figured there would be fewer people there. We were wrong. We got up super early, got on the subway, trekked across the city for 6:00 am only to find there were people EVERYWHERE!!?? I mean who gets up that early? So in reality we sort of dropped our plans for the Coliseum and went to photograph elsewhere, and we were pleased. However as we never drop ideas quickly we said let's go try sunset. If it's a bust, no worries, we will go do some touristy stuff… So we packed up ALL the gear we would need which was fairly heavy and trekked back across the city with NO expectations.
We get to the square and of course, it's filled with people and the disappointment was real. The sun sets on the building perfectly and lights it up in an incredibly daily showpiece with the shadows gently crawling up the face until the sun finally sets and we had front row seats to this wonder of nature and human effort. We loved it.
But… as soon as the sun set EVERYONE LEFT!!!! As the building is illuminated from the inside and the sky turned the dark midnight blue of happy hour as it's known in the photography world we had this iconic building pretty much all to ourselves. Well then the floodgates of creativity opened and it was all I could do to capture everything that was in my mind until we had no light left. Sherry was running around making sure dresses were flying, flashes were in the right place, and I was laying down on the sidewalk with my camera dangling just above a dirty puddle with garbage in it (I actually had to pick out the garbage to get a clean reflection) and after much effort we captured this.
It's actually a 20mm 6-panel vertical panoramic stitch in order to get the photo wide enough to have the building and the reflection while still maintaining a pleasing composition.
#6
Photographic Bliss 
Sometimes all the plans we make come together to create perfection. This is the Most Perfect Pre-Planned Photo We've Ever Taken
This was taken during a planned Couplescape trip where we wanted to create this photo. However, the circumstances around it are anything but simple. We came up with an idea to create a Couplescape image in Larch Valley above Moraine Lake in Banff National Park, Alberta and immediately there are a few problems. The Larch or Tamrac trees are only yellow for a short time during the fall, usually the last week of September when the weather is also unpredictable… so that's fun! Also, it's a good hour and a half hike from the parking lot to the valley so we all need to be ready to adventure, plus the parking lot at Moraine Lake is small and the number of tourists is large, and if you take the shuttle bus from the additional parking the last shuttle departs at 5:00 pm so you can't stay until good light if you need to take the shuttle.
What we were looking for was for the sun to illuminate the yellow trees against the blue sky and mountain backdrop with our couple as an integral part of the photo. So off to planning we went. One of our couples signed up for this adventure, flights booked, lodgings booked and we were ready to go. We had two days planned just in case we had bad weather on one of them. A very short time before we were ready to go our couple messaged to say it was impossible for them to be there as they had a schedule change so we were left with everything booked but nobody to photograph… So we reached out to our network trying to find someone available on this next Tuesday to join un on an adventure and we had a taker.
The session was planned for the afternoon but we wanted to make sure we got parking so as to not take the shuttle so Sherry and I were up there for 7:30 am… we brought a picnic lunch and spent 4 hours hiking before our couple arrived, then we made our way up the mountain and then the God blessed us with the most wonderful weather. What was a fairly cloudy day, as the sun was hovering just above the mountain tops the clouds parted and the incredible golden light started pouring down on the yellow trees and we had about 15 minutes of perfection. It was one of the most sublime lighting moments we have been part of.
#5
Top Of The World
Whistler, B.C. is a very special place for the two of us. It's the place I should have proposed to Sherry, (story for another day), it's our favourite place to vacate for a day, or two, or three, and now it's our kids favourite as well and we have so many memories in this mountain village. This next photo is the first Couplescape we created in Whistler and features Black Tusk in the distance which is Sherry's favourite mountain. There are a lot of favourites here.
This picture is all Sherry's doing and the rest of us were along for the ride. Cudos to Dallas & Meray who were willing to stand in quite an awkward place near the edge of a cliff, but the photo is definitely worth it.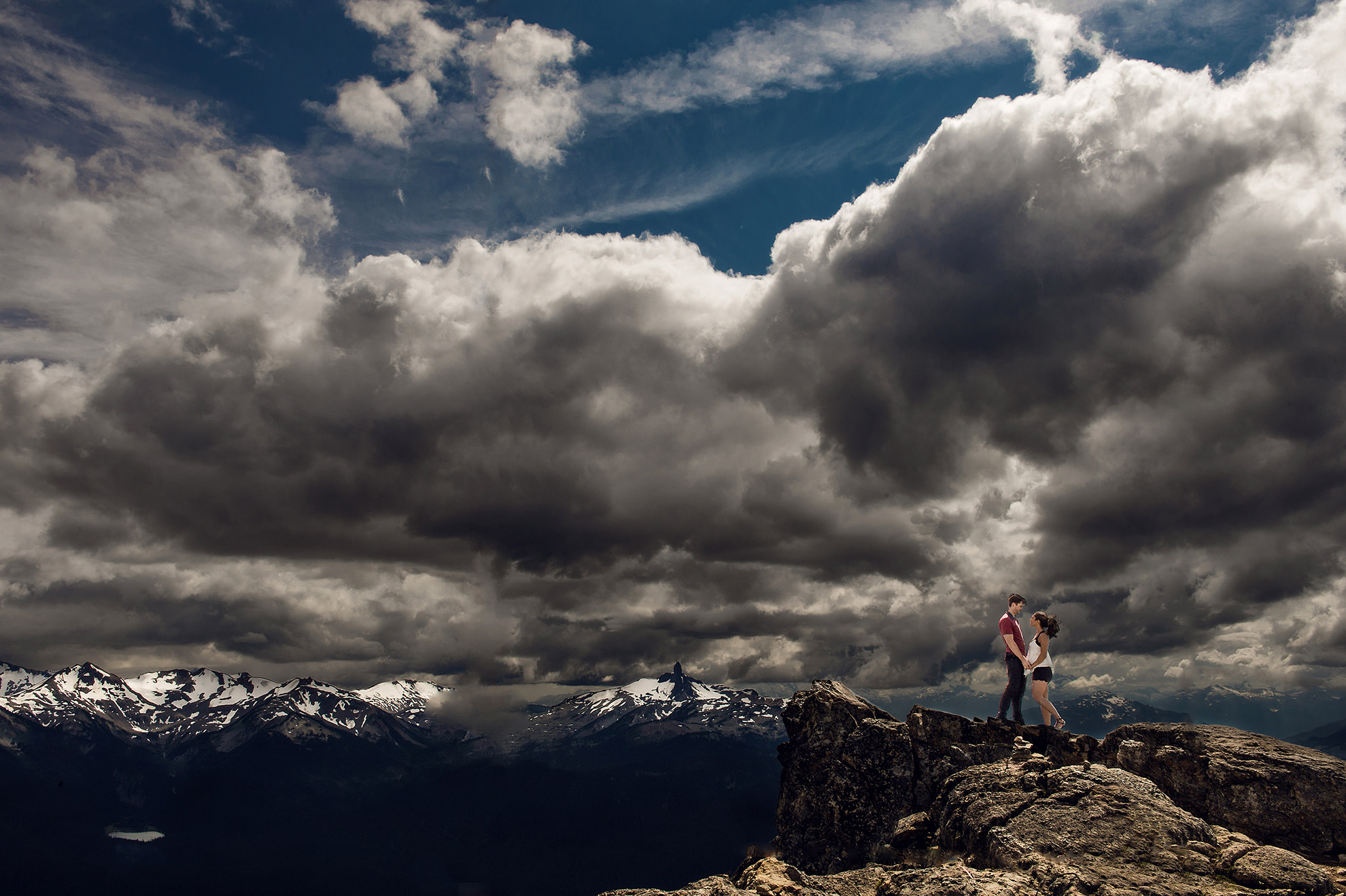 #4
Our Life In One Picture
This is the one photo of our family that summarizes the first decade. Contentment, joy, blessings, travel, love, togetherness are all traits that come to mind when I look at this one.
Photo wise it's taken after we finally found parking in the city of Florence, Italy, even though unbeknownst to us at the time we had just received two large traffic violations… (argh Italy fines) but we were parked and mounted up to make our way through the city and this is how we traveled a lot during these times. One kid on the front, one kid on the shoulders, and a content father in the middle. Sherry with the bags, camera, map, and the lead. I've spent much of the first 6 years of the kids' life carrying at least one of them on my shoulders and to my own fault probably too much because I enjoy it and know it won't be possible for much longer.
I love the faces in this photo.
Iphone 6 Plus 😀
#3
This Is Bridal
It's the soft, subtle beauty of every woman on her wedding day, she has handpicked every detail to show off her beauty. Sherry and I have come back to this photo over and over again as it has made every list of best portfolio images we've picked for years. On a wedding day, we love having MORE than a few moments in the early part of the day to take the bride, done up in all of her glory to create an amazing portrait. These bridal portraits are the images that make history, they will be passed down for generations, as we have photos of our Grandmothers. At this particular wedding, the groom was getting ready off-site, leaving us access to the whole venue for us to explore and find beautiful nooks and crannies to create stunning images. This image was created in the Carriage House at Graydon Hall, Toronto. We snuck in there to take a photo of our beautiful bride in front of the fireplace and as Sherry was standing off to the side she saw this stunning angle, It's not assuming, it's not flashy, it's not full of colour, but it has style, elegance, and timeless beauty.
#2
Symmetry
It doesn't matter that we were all exhausted from walking all over the city of Paris in the rain
It doesn't matter that we thought we were going to be left without any good weather for the session
It doesn't matter that we only had 2 minutes to get it right
Everything came together.
The lines, the symmetry, the incredible sunset, just for this moment.
#1
Yup, It's Real
What can I say about this photo that hasn't already been said. You can read a full description about it here, but it's something we will probably never do again. I don't say that because it isn't possible to do again, but it is perfect the way it is. The level of planning that went into it was epic, as we had to figure out when the moon would be rising in which direction at what angle of inclination then had to scout a location that would allow for two people to stand on top of a hill without any trees behind them that also allowed the photographer to be located 600-700 yards away in order to be able to compose it correctly with the 1200mm, 30-pound lens in order to get the compression needed to make the moon appear as large as it does. The couple was amazing, Sherry's veil floof was perfect, our assistant's effort to get the dress to fall correctly as they stood on step ladders above the grass worked out perfectly, all the while trying to figure out the exact spot the camera needed to be in the 2 minutes we had to capture the shot. I guess the only thing to say is…
Enjoy.
Thank you to all of our clients, all our friends, all of our family and to our Lord Jesus Christ who help to make our life as amazing as it is. We see ourselves as very blessed that we get to impact people's lives in the way we do. We get to document moments, create art, help guide people through their wedding day and do it all while hopefully showing an example of what a marriage built on the principles of Jesus Christ looks like. We love weddings, we love marriage, and we hope to continue to be an example that choosing to be with the woman you love, focusing on the things in life that truly are most important, namely God, family, and others.
Here is to the next decade of photos, people, travel, and family. May it be as wonderful as the last and filled with things we will remember for the rest of our lives.