Top Wedding Venues in Toronto
We are so blessed to have such amazing event spaces, and as far as we are concerned these are the top wedding venues in Toronto.
Graydon Hall Manor
Graydon Hall Manor is one of our favorite venues as their customer service is amazing, the food is stunningly good and the venue itself has everything you need.  When you can have a location that is as beautiful as that and be able to get ready, get married inside or outside depending on the season, and have a magnificent reception all in the same place, this has to be top on anyone's list.
Capacity:
20 to 180 guests can be seated for sit-down events
40 to 400 guests for Cocktail Parties
For Unequalled setting you can have their 160 foot long stone terrace which overlooks the flowing fountains and formal gardens.
Also the terrace can be reserved with or without their custom, clear span canopy, which can seat up to 250 guests.
Winter wedding at Graydon Hall
Summer wedding at Graydon Hall
Fall wedding at Graydon Hall
Graydon Hall's website
Arlington Estate
The Arlington Estate is the newest of the event venues around Toronto and they have done a magnificent job in creating a luxury space that is easy to access, big enough to host just about any event and perfect for weddings. With indoor and outdoor ceremony spaces, a picturesque pond and property for taking photos and great customer care, they have positioned themselves as one of the best in the area.
Liberty Grand
The Liberty Grand has a history of making weddings great for many many years.  If you take a look at their website and see what they have to offer you will see their location is awesome (downtown Toronto across from the water), they have lots of space available for weddings of many different sizes all the way up to really big :D, and they have a gorgeous grounds and architecture to work with which we as photographers love.
Liberty Grand Wedding
Liberty Grand Website
Bellvue Manor
Bellvue Manor is the epitome of luxury wedding venues.   Italian marble floors, limestone walls, and rooms that can have small or very large wedding receptions.  The staff is amazing and the food is wonderful.  A wonderful choice for your wedding whatever the size.
Bellvue Manor Wedding
Bellvue Manor's Website
Palais Royale
I love the history of this place. If you are looking to get married in a place where stars have walked, danced, and sang this is it. In talking with my Grandma's sisters (who are above 80 years young) they remember dancing here when it was in it's Hay-day. My Grandpa too remembers seeing music legends like Johnny Cash there many moons ago.
Whether you are planning a 1920's style wedding or just love the nostalgia of a historic building this is a great place to get married. Beautiful both inside and out located right on the water with beautiful lakeshore views and ceremony location. Your grandparents may have said this would be one of Toronto's top wedding venues too.
Capacity:
200-300 guests can be seated with dance floor
350-400 guests can be seated in their ballroom without dance floor.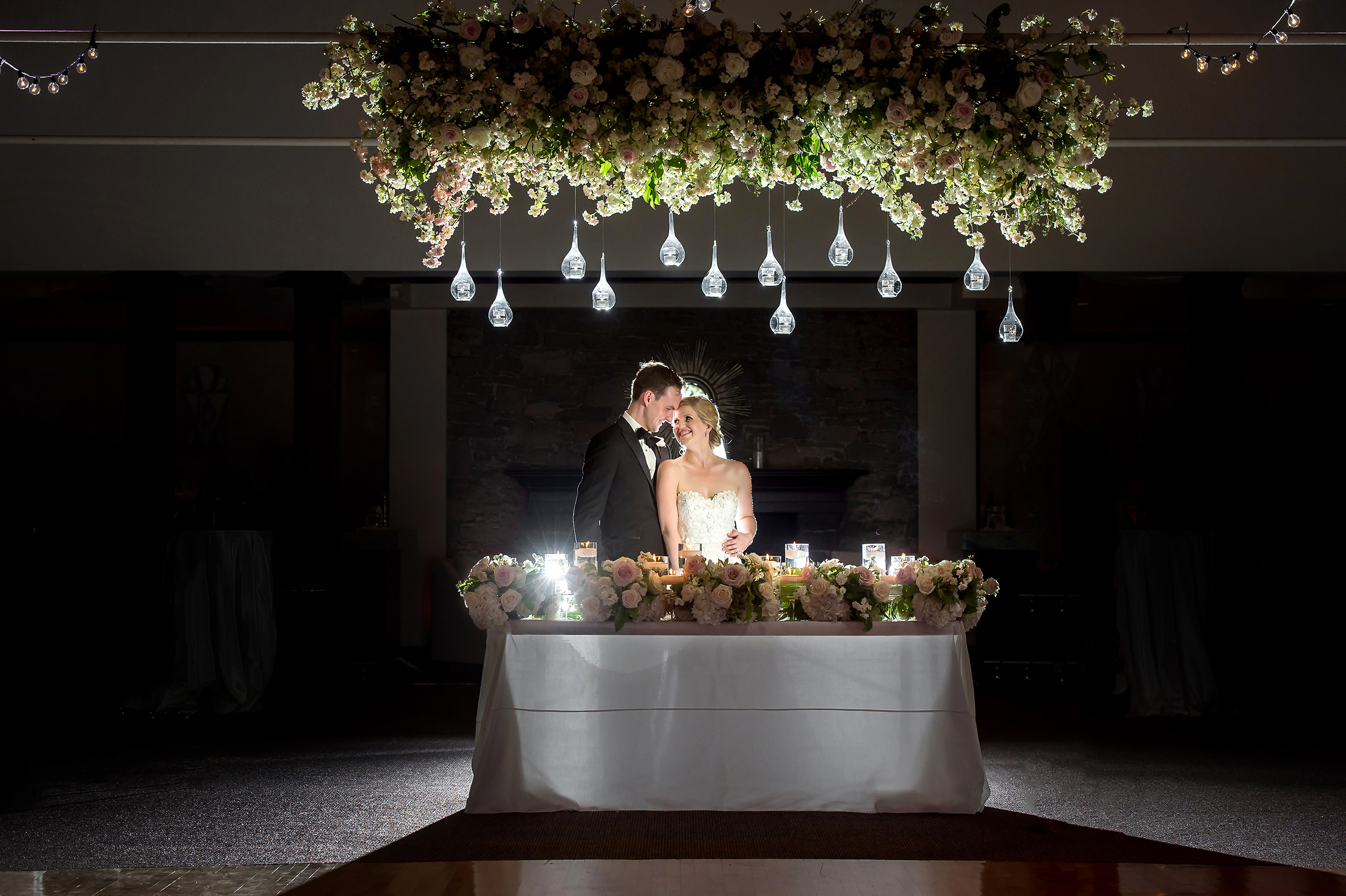 Palais Royale Wedding
Palais Royale Website
Westin Prince Hotel

Located in North Toronto, this all in one wedding venue is perfect for anyone wanting the beauty of an outdoor wedding with the convenience of having everything you need right there with you.  Beautiful hotel rooms, an awesome outdoor wedding location, spots for great photographs, and 30,000 sq ft. of banquet facility allowing you to have from the smallest wedding to being able to cater to the largest wedding.
I absolutely love all in one venues as there is no stress of traveling from location to location on the day.  If you forget something in the hotel room, or want to check on something in the reception, you can :).  Everything is within an elevator ride.  This is one of the best places in Toronto to have a stress free wedding day.
Capacity:
10 to 500 can be seated in their facilities.
Westin Prince Wedding
Westin Prince Website
Because they are close to town and provide all in one luxury service, this makes them one of the top wedding venues in Toronto.
Glencairn Golf Club
Located just west of Toronto near the 401 this breathtaking golf course and clubhouse facility provides a beautiful atmosphere for weddings.  The convenience of it's location coupled with a fantastic property with which to do photos make this an excellent choice for many.  The food is excellent and the split dining hall/cocktail room makes for a nice transition between wedding and reception.  They also give access to a nice sized bridal party room to use during the day which is really useful.
Capacity:
120 – 250 (On season Saturdays)                  (Smaller weddings are negotiable)
Glencairn Wedding
Glencairn Website
Belcroft Estates
A rustic feel for your wedding is what you will certainly get at Belcroft Estates.  This sprawling acreage has multiple different locations on site to have your ceremony and a large banquet hall perfect for catering your modern/vintage wedding.
The property has everything a photographer could ask for, from ponds and trees, to architecture and buildings.  We could spend hours wandering the property taking photos with our couples.
The service you'll receive is amazing and though this venue is located closer to Barrie, it is well worth the drive and will provide an amazing wedding spot for your big day.
Capacity:
150 guests can be accommodated under their red tile roof for outdoor ceremony and cocktails.
Belcroft Estates Wedding
Belcroft Estates Website
Estates of Sunnybrook

Located in Toronto, Ontario, the Estates of Sunnybrook is the ideal venue for wedding ceremonies and wedding receptions. At The Estates of Sunnybrook, we are dedicated to making your special event unforgettable. We recognize that the memories of weddings last forever.
The team at the Estates of Sunnybrook is here to make sure your memories are of a perfect celebration designed the way you envisioned, capped by an exquisite meal and served with graciousness and attention to detail. From an intimate wedding luncheon for 20 to the ultimate fairytale wedding for up to 180 guests, the Estates of Sunnybrook will make your special event a stunning success.
Estates of Sunnybrook Wedding
Estates of Sunnybrook Website
Le Jardin

One only needs to experience the beautiful and sensual Victorian décor, to appreciate the romance that is Chateau Le Jardin wedding castle in Vaughan.
Together with our professional staff we, at Chateau Le Jardin banquet reception venue, will turn your wedding dreams into reality. Experience the expression of refinement, elegance and grandeur while you are swept away within the most romantic setting.
Capacity:
1300 guests – No Dancing
1000 guests – With Dance Floor
Estates of Sunnybrook Wedding
Le Jardin Website
One King West
Located downtown Toronto this wonderful historic building hosts the most beautiful weddings in Toronto. It is an intimate venue that can host both small and large weddings. It's high ceilings and wide spaces provide a perfect canvas to apply incredible wedding decor.
You have the choice to include several different spaces for your events including the Grand Banking Hall, the Austin Gallery and the Chairman's Boardroom. These spaces are perfect for the different parts of a wedding reception such as the ceremony, cocktail hour and reception times. The Grand Banking Hall provides a wonderful dance floor for the craziest of evening parties.
One King West Wedding
One King West Website
Cobble Beach
If you are looking for a northern oasis for your wedding location this is it. We LOVE Cobble Beach the grounds are amazing for photographs, the outside ceremony location has the beautiful backdrop of Georgian Bay and the food is awesome. The staff there are excellent and will make sure you are taken care of. Now it's not exactly in the GTA but don't knock it off the list, with 10 suite inn and everything you need on site plus it's very close to Owen Sound or Wiarton Ontario it's a beautiful location for an intimate unique wedding.
Capacity:
130 guests can be seated in the Dining Room
160 guests for their Tent
Cobble Beach Wedding
Cobble Beach's Website
Though they are not in Toronto, Cobble Beach offers an out of town destination feel close to the city and because of their care for their clients I think they should be listed as one of the top wedding venues in Toronto.
Oakdale Golf & Country Club
Located just off the 400 and 401 highway, this golf course and supreme wedding venue is the top of it's class for service and luxury.  There is plenty of parking on site, and due to the size of the clubhouse they are able to accommodate whatever comes their way.
Opening in 1927 has it's benefits as they have many years of experience and deliver a top rate wedding.  The grounds are phenomenal and finding locations for photos is not difficult.  Their large patio with it's large tent covering is perfect whether the weather is good or whether the weather is bad, giving you a stress free option, especially in the non-optimal months for weather.
Capacity:
120-240 guests can be seated
They can also hold the ceremony, cocktails or the entire even in their 5500 sq ft terrace depending on the size of the wedding.
Oakdale Country Club Wedding
Oakdale Country Club Website
Fairmont Royal York
When it was built, the Royal York Hotel was the tallest building in the entire British Empire.  That certainly says something to the grandeur of the Fairmont Royal York.  For an empire on which the sun never set, to have no taller building throughout said this was a building to remember.
Still an icon in the Toronto skyline, this amazing wedding venue and hotel give you an unparalleled experience.  I mean even the Queen of England had a reception in the very room of this photo below when she made her last visit to Canada.
The lobby is iconic, the rooms are grand and the staff are amazing.  You will enjoy every ounce of your wedding here.  As a bonus, you even get to go to the top floor for photos on your day.  A lovely retreat from a busy day to enjoy your family, new spouse and some sweet photos.
Capacity:
30-800 guests can be seated. They also have several ballrooms and exclusive floors that allow them to cater to any Wedding.
Their banquet space is 84, o00 sq ft making them able to accommodate many different requests.
Fairmont Royal York Wedding
Fairmont Royal York Website

The Venetian
We were so impressed by the Venetian's client care, quality of food and overall experience that we had to put it in our list.  This is a venue that can hold a smaller wedding of 100, but can also house 600-1000 if necessary.  The ability to open up the walls and make a very large room makes it a possible choice for the wedding with many guests, and the 100 person wedding.
Really what got me excited were the food, which was absolutely fantastic (the butternut squash soup was to die for) and the customer service.  As vendors at a wedding we expect to get the lowest level of treatment as it is far more important to serve the guests, wedding party and bride and groom than it is us.  So when we are treated as well as we were for this wedding, I can imagine the service for the guests was even better.  Way to go Venetian.  Check out Mark & Melanie's wedding photos while you're here :).  Mark & Melanie
The Venetian Wedding
The Venetian Website

Hazelton Manor
The big benefit of a reception at Hazelton Manor in our eyes is convenience.  If you are having lots of guests to your event, parking and accessibility becomes an issue.  Hazelton is close to the major highway systems, has ample parking, and can be "done up" or decorated however you'd like.  This wedding was about 300 guests and they did a great job caring for everyone's needs.  Enough space for a cocktail hour outside of the main hall, and plenty of space for your wedding and dancing inside without moving tables.  For small weddings I feel there are places that are more beautiful or more quaint, but for large events this is one to consider.
Capacity:
100 to 700 guests are able to be seated in two perfectly designed ballrooms.
Hazelton Manor Wedding
Hazelton Manor Website

There are other venues in Toronto which we have coming to our blog this year that you may want to check out.
Casa Loma
The biggest castle we have in Toronto just also happens to be an amazing wedding venue.  Located near downtown, this incredible structure certainly gives a unique look and feel and will surely make you feel like a king or queen on your wedding day.
We are still working on getting details for capacities at Casa Loma.
Casa Loma Photos – A look at what's possible for your wedding
Casa Loma Website
Chateau De Charmes
A beautiful vineyard setting near Niagara-on-the-Lake, this venue is an operating wine producer and has a gorgeous property for outdoor tent weddings.
Still working on getting capacity details for Chateau Des Charmes Weddings.
Chateau Des Charmes Wedding
Chateau Des Charmes Website
King Edward Hotel
We haven't yet had any personal experience with the King Edward Hotel with weddings but we have heard such good things about it we had to put it in our list.  The building itself is a marvel of design and architecture and from what we have heard, they do a darned good job on weddings as well.  I would recommend checking it out if you're looking for an elegant and incredible wedding venue.
King Edward Hotel Wedding
King Edward Hotel Website
Ritz Carlton
Accommodating up to 600 guests, this downtown Toronto wedding venue is perfect for a large wedding filled with luxury, style and class.   With one of the best reputations for hotels and service in North America, the Ritz Carlton will continue to amaze for years to come.
Ritz Carlton Website
The Carlu
This upscale, chic and modern venue is a wonderful place to dazzle your guests.  The Carlu is dedicated to holding gorgeous weddings and executing them flawlessly.  Expect the best Toronto has to offer with them.
The Carlu Website
Grand Luxe Event Boutique
The Grand Luxe is another in the same family of venues as Atlantis and Casa Loma.  Knowing what a great job the staff at the other two do, I can't help but think the Grand Luxe delivers on every point as well.  I would certainly check them out.
Grand Luxe Website